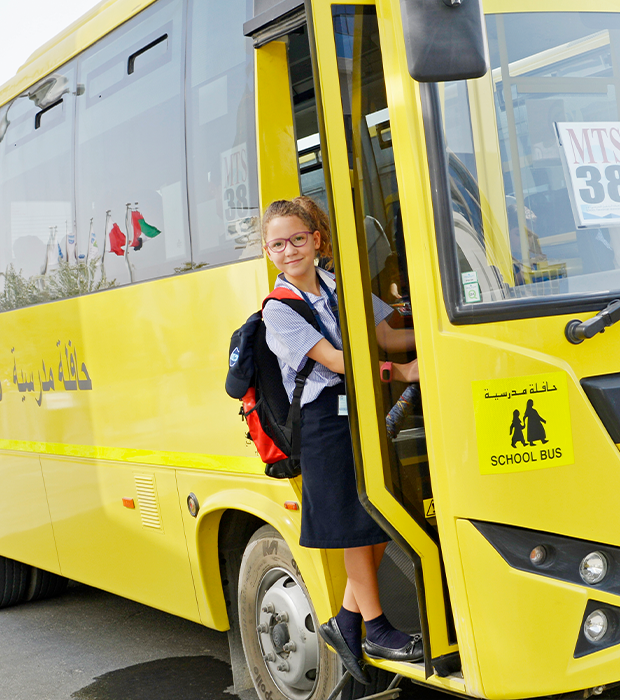 School Transportation
GEMS Metropole School - Al Waha offers a safe and secure transport service to our students.
The school has a very efficient, safe and reliable bus service provided by STS and is operated to the highest international standards. With this service, parents can afford to relax as we have highly trained professionals planning, organising, monitoring and taking immediate action to safeguard the children from any problems and ensure they are comfortable and safe at all times.
Provided by School Transport Services LLC (STS)
STS is ISO certified (ISO 9001:2008 and OHSAS 18001: 2007)
STS is the winner of the Dubai Quality Appreciation Program (DQAP) 2011 and the Dubai Award for Sustainable Transport 2010 and 2012 (in the categories of School Transportation and Transport Safety)
Exceptional fleet safety standards are maintained
The rules set out by the Road and Transport Authority (RTA) Dubai are adhered to at all times
All buses are equipped with Video Surveillance Systems, Global Positioning Systems and Student Attendance Confirmation Scanners
The school administration continuously works with the experienced STS team to ensure standards of travel and road safety are always adhered to
To avail the transport service
Step One
Submit a Transport Request form.
Step Two
The STS area specialist will confirm service availability in your area.
Step Three
If available, you will be contacted and informed of the safe collection and drop-off point/s, the timings and the bus mobile contact number (also available on School Transport Services)
Step Four
Make your online payment and read the Terms and Conditions at School Transport Services
To contact STS
04 339 7555
Ask for the Customer Care Executive.