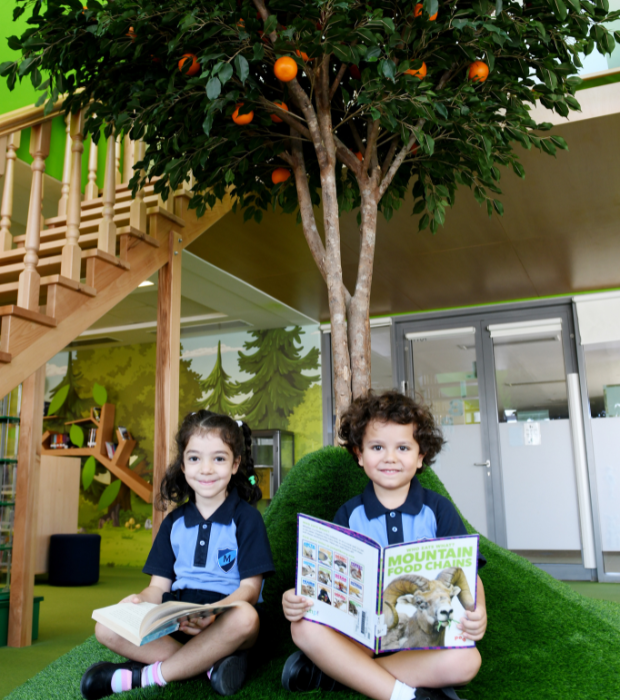 Forest School
Nurturing Curiosity – Infant School
In the early years of education, it is essential to nurture curiosity and encourage students to explore the world around them. At GEMS Metropole School – Al Waha, we focus on nurturing curiosity in FS1 to Year 2 through play-based learning via our forest school and sustainability programmes. Our forest school, complete with biodomes and a farm, provides students with opportunities to engage in hands-on, experiential learning, while our sustainability programmes helps them to understand the importance of caring for the environment and the impact they can have on the world.
Coming Soon: Farm and Biocube Adventures: Where Sustainability Comes to Life!
Picture a school where the classroom extends beyond four walls, where your child's education is a journey of discovery and sustainability. Welcome to GEMS Metropole School – Al Waha, where we blend hands-on experiences in our farm with cutting-edge knowledge in our Biocube to nurture responsible global citizens.
From FS1 to Year 2, your child will spend half their time in our lush farm, learning the essence of sustainability by caring for animals and crops. This hands-on approach instills empathy and responsibility from an early age.
In Year 3 to Year 9, students will delve into the business side of sustainability, mastering skills like entrepreneurship, preparing them for a future where eco-consciousness meets economic success.
And for Year 10 to Year 13 in the future, we will offer a rigorous GCSE curriculum, equipping your child with the knowledge and qualifications needed to excel in a sustainable world.
At MTW, we believe that the future belongs to those who understand and embrace sustainability. Give your child the opportunity to embark on a transformative journey that empowers them to preserve our planet while building a bright future.